Festival Announces 2024 Directors: Engelstad Shakespeare Theatre Edition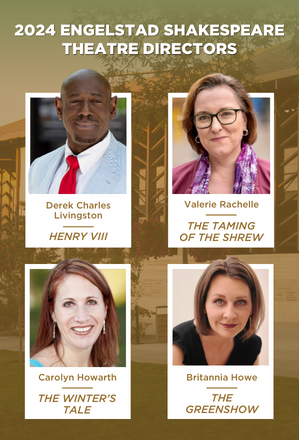 Coming to the Festival from all across the country, we have eight directors gearing up for the Festival's 63rd season in 2024. 
Be sure to catch their productions by purchasing tickets for the 2024 season on Cyber Monday, November 27 for $10 off per ticket. 
Let's get to know the three directors taking on shows in the Engelstad Shakespeare Theatre this season, as well as the returning Greenshow director.
Derek Charles Livingston
Henry VIII
June 17-September 5, 2024
"Taking on Henry VIII as a director is a humbling task. It's one of Shakespeare's lesser-performed plays, so there's a feeling I have to 'get it right,'" Livingston said.
"Shakespeare clearly wrote it for an audience that was familiar with the individual players, so as a director, I have to find ways to tell the story that is clear to a modern audience. Even with those challenges, I am excited to be helming this production for the Festival." 
Currently the Director of New Play Development/Artistic Associate at the Festival, Livingston is returning as a Festival director, having directed A Raisin in the Sun during the 2023 season. He also acted in the Festival's 2022 production of the one-man play Thurgood.
He has also directed Polar Bears, Black Boys, and Prairie Fringed Orchids at the Festival's 2022 Words Cubed reading. Livingston has taken on roles in productions at other theaters of Thurgood, The Pillowman, and The Whipping Man to name a few. 
Livingston was awarded the New Hampshire Drama Award for Best Actor, as well as the LA Stage Scene Awards for Best Director. He received a Bachelor of Arts in Theatre Arts from Brown University, as well as a Master of Fine Arts in Film Production and Direction from the University of California, Los Angeles School of Theater, Film, and Television. 
Valerie Rachelle 
The Taming of The Shrew
June 19-September 7, 2024
Rachelle is returning to the Festival for her third season of directing. She helmed last season's Jane Austen's Emma The Musical and was the Assistant Director for All's Well That Ends Well in 1998. She has also directed at Oregon Shakespeare Festival, Oregon Cabaret Theatre, and Utah Festival Opera, among others.
Rachelle has teaching credits from Southern Oregon University, University of California, Los Angeles, and CalArts. She is also the Artistic Director at Oregon Cabaret Theatre. 
"I am ecstatic to return to the Festival," Rachelle said. "I am honored to work with so many talented collaborators at this wonderful theater company once again."
Carolyn Howarth 
The Winter's Tale
June 18-September 6, 2024
"I am thrilled to be making my Utah Shakespeare Festival debut," Howarth said. 
Although this is her first time at the Festival, she has directed for 14 seasons at Colorado Shakespeare Festival. Howarth has also directed at Orlando Shakespeare Theatre, Lake Tahoe Shakespeare Festival, and Sierra Shakespeare Festival as well as many others. 
She has teaching credits from University of South Carolina, University of Alabama, UC Davis, and Sierra College. Howarth served as the Artistic Director at Foothill Theatre Company of Nevada City (CA) and has acting credits at Lake Tahoe Shakespeare Festival, Jewish Theatre of San Francisco, and Maxim Gorky Theatre of Vladivostok, Russia, among others. She received a Bachelor of Arts and Master of Fine Arts from UC Davis. 
Britannia Howe
The Greenshow 
June 17-September 7, 2024
"The Greenshow celebrates community at the Festival by audience participatory storytelling," Howe said. "The Greenshow, first developed by the late Barbara Adams, gives multiple opportunities for children and adults to participate in games, riddles, singing songs, and being a part of the theatrical experience at the Utah Shakespeare Festival. This year will include lively music, tap dancing, magic, and folklore."
This is the director's fifth season at the Festival. She directed The Greenshow in 2018, 2019, 2021, and 2023, as well as Cymbeline in 2021. 
She has also worked at Illinois State University, Utah State University, and Illinois Shakespeare Festival, to name a few. Howe received the Kennedy Center American College Theatre Festival National Directing Fellowship in 2011, and has taught at Illinois State University, Southern Utah University, and Utah Shakespeare Festival's Playmakers and Actor Training. 
Howe received a Master of Fine Arts in Directing from Illinois State University, as well as a Bachelor of Fine Arts in Classical Acting and Theatre Education from Southern Utah University.
The Greenshow will have three new scripts this season inspired by the plays produced in the Engelstad Shakespeare Theatre. 
Visit bard.org for more 2024 season information. Go to bard.org/cyber for more details on the biggest sale of the year!