Shakespeare Competition Going Virtual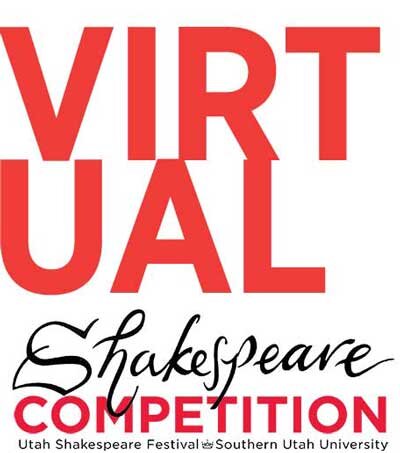 As numerous events around the world were being canceled because of the COVID-19 pandemic, Utah Shakespeare Festival Education Director Michael Bahr knew that he could not let the annual Shakespeare Competition be called off, even for a year. He knew he had to find a way to pull off the forty-fourth annual event that draws thousands of students.
So, the Festival Education Department found a way: a virtual competition, complete with professional adjudication, workshops, and performances. The competition is October 9, with students and schools able to submit their video entries through September 26.
"We just knew we must do this. This event cultivates and encourages a fundamental love for the arts. Once a student has been challenged by performing Shakespeare, they can do anything," said Bahr. "Teachers and students, despite the challenges of COVID, have been enthusiastically preparing to share their pieces in this virtual format. They are proving that the show must go on!" 
The Festival is expecting submissions from over 2,000 students from 106 schools in Utah, Idaho, Nevada, Arizona, Kansas, California, Washington, and Wisconsin.
Rather than meeting in person at Southern Utah University, schools and students will submit all of their performances as a recorded file, including acting entries in monologues, duo/trio scenes, ensemble scenes; dance duo/trio scenes and ensemble performances; choral minstrel and madrigal pieces; technical portfolios; and Tech Olympics. 
Those recorded files are then sent to judges who are professional actors, dancers, and technicians from all over the United States. The judges will rate the entries on a uniform scoring rubric and provide an instructive critique. 
The competition is also offering the usual workshops in dance, acting, music, and theatre production, all online. Some of these will be pre-recorded and available for teachers to use at any time within their classrooms. Many will be offered live via Zoom for students to attend on October 9 from 9 a.m. to 3 p.m. 
In addition, students will be able to view online the Southern Utah University Dance Showcase; a choir concert, "Transformations"; and the Theatre Department production of Much Ado about Nothing.
And, of course, there will be a closing virtual get-together where awards will be announced in each category.
"We are looking forward to seeing the many ways that students have adapted to perform within the obstacles of social distance, Zoom rehearsals, and masks," concluded Bahr.
More information is available by contacting the Education Department at education@bard.org or visiting the website at www.bard.org/competition.