High School Competition Oct. 3–5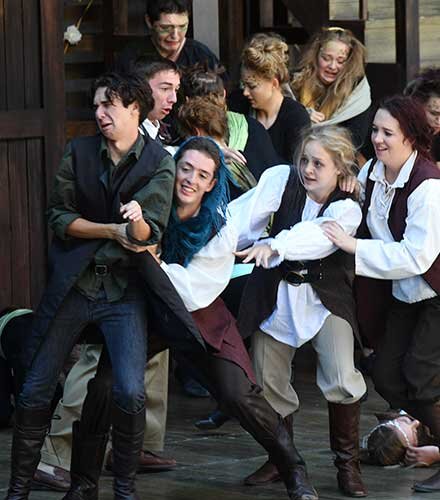 From October 3 to 5 over 3,500 students from more than 130 schools in eight states will descend on the Utah Shakespeare Festival and Southern Utah University as part of the forty-third annual Shakespeare Competition, the largest scholastic Shakespeare competition in the country.
While here, they will compete in acting, dance/choreography, music, and technical theatre before panels of industry professionals. They will also participate in workshops such as stage combat, improvisation, movement, technical theatre, auditioning, ballet, modern dance techniques, and choral performance, as well as attend Festival and SUU plays. At the end of three days, winners will be announced and trophies and scholarships handed out.
"For more than four decades this event has changed the lives of aspiring young students from all over the United States," said Michael Bahr, Festival education director. "I'm looking forward to continuing this great tradition of theatre, dance, and music."
Competitors range from sixth grade to high school seniors. Each participating school is invited to prepare monologues, two duo/trio scenes, and ensemble scenes, as well as an interpretive dance, minstrel and madrigal music. Technical theatre students will also compete in the numerous "backstage" areas of theatre, where they will be tested and trained in lighting, audio, set construction, props, rigging, costumes, hair and makeup, and stage management. Performing on Festival stages and in many classrooms on the SUU campus, students are adjudicated by professional actors, directors, dancers, musicians, and artists.
 Donn Jersey, director of development communications said, "Anyone attending the Shakespeare Competition will clearly see the passion and exuberance these students demonstrate for theatre, dance, and music. They will be the future leaders of the arts, and this competition gives them the tools necessary to believe in themselves and in their art."
Further information is available at the Festival website: bard.org/competition.