News From the Festival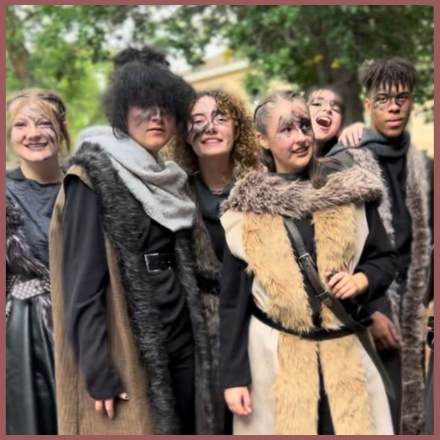 The Utah Shakespeare Festival is excited to host its 47th annual Shakespeare Competition on October 5-7, 2023. 
The largest of its kind in the country, the Shakespeare Competition began in 1977 and now hosts schools from around the country.  Each year, approximately 3,000 students ranging from third to twelfth grade travel to Cedar City to compete on Southern Utah University's campus. 
The mission of the competition is to "cultivate the art of theatre, dance, and music by providing active observation of peer and professional performance, educational creations based on Shakespeare's works, and personal evaluation by working professionals."
Not only does the competition give participants the opportunity to grow and learn in the world of theatre, but it has an extremely positive impact on the local community—both educationally and economically.
The Educational Impact
The Shakespeare Competition is meant to inspire, educate, and encourage young people interested in the worlds of theatre and Shakespeare, but its impact can also be seen in a more indirect way on Southern Utah University's campus.
SUU Assistant Professor of Musical Theatre Lisa Quoresimo said the Shakespeare Competition's impact manifests on campus by bringing an inspiring environment of energy and hope.
"The sight of thousands of joyous high school students filling every spare room and scrap of lawn as they rehearse their monologues and scenes in everything from traditional Elizabethan costumes to full-Jedi Knight regalia gives us all hope for the future of theatre," Quoresimo said.
Many of those assisting in the competition were once participants themselves—direct proof of the mark the Shakespeare Competition has had on those involved. 
"Many of our SUU students were once participants, and they love the feeling of giving back as they volunteer to help the next generation of theatre fans to find their way," Quoresimo said.
Many theatre fans have, in fact, not only found their way, but forged a successful career path in the world of theatre.
The Festival's current Associate Education Director Stewart Shelley was once a Shakespeare Competition contestant himself. As a former teacher, he went on to spend 20 years bringing his own students to the competition. In his current position at the Festival, Shelley plays a vital role in planning and managing the Shakespeare Competition, giving students the opportunity to immerse themselves in the world of Shakespeare as he once did. 
"Participating in the Shakespeare Competition as a student changed the course of my life," Shelley said. "The camaraderie we built as a team made life-long friendships. However, the greatest impact was the spark for me to become a theatre educator."
Shelley wanted to ensure that as many students as possible would be able to experience the same magic of the Shakespeare Competition that he did. 
"Coaching a team was very different from competing as a student, and now my current capacity being an administrator of the competition is again a very different experience," Shelley said. "However, the goal remains the same." 
According to Shelley, the goal is cultivate a love of performing, an opportunity to "speak the speech," and experience a marvelous weekend with thousands of other students who are equally passionate about their craft. 
In addition to staff that has been a part of the competition, many of the acting company that performs each summer has a personal connection as well. Rhett Guter, Allie Babich, and Marco Antonio Vega were also once Shakespeare Competition participants—now shining stars on Festival stages throughout the 2023 season. To learn more about their stories, click here. 
The Economic Impact
Maria Twitchell, Executive Director of Visit Cedar City • Brian Head noted that the Shakespeare Competition continues to be one of the top events that generates considerable economic impact on Iron County. 
"Last year, participants spent $572,000 on local lodging alone, occupying 91 percent of our city's hotel rooms," Twitchell said. "Lodging expenses aside, we estimate each participant/chaperone spends about $42 per day within our community on food, snacks, fuel and supplies, which equates to approximately $504,000 in spending in our local businesses."
Overall, the Utah Shakespeare Festival Competition equates to over $1 million dollars in economic impact on Cedar City over a single weekend.
For more information on the Shakespeare Competition, click here. To learn more about the Festival educational opportunities, visit bard.org/education.