The Charismatic Character of Nick Bottom in A Midsummer Night's Dream
By Liz Armstrong
This is the eleventh time that the Utah Shakespeare Festival has produced A Midsummer Night's Dream––Shakespeare's magical tale of fairies, lovers, mischief, and moonlight.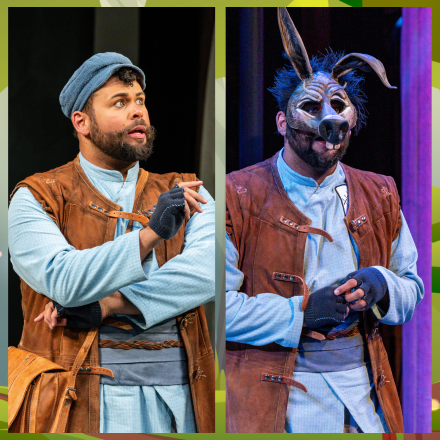 Perhaps the most humorous character in the production is Nick Bottom. Overly confident, dramatic, and self-assertive, Bottom believes himself to be the very best of the actors in the troup of mechanicals presenting a play-within-a-play. A fun and vibrant character, let's take a look at who has taken on this iconic role throughout the years, as well as dive into what it's like to play Bottom with current season's actor Topher Embrey.
1964 - Paul Vorkink
1969 - Norman Langill
1973 - Derek Weeks
1978 - Gregory Leach
1986 - Irwin Appel
1993 - George Judy
1999 - Jay Russell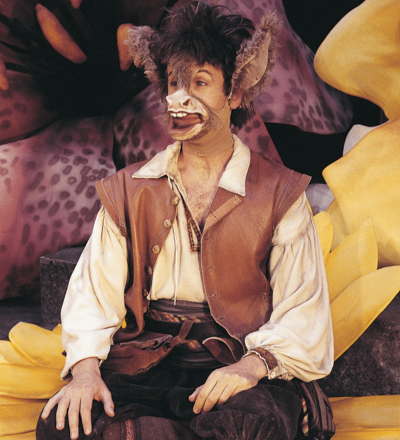 2005 - John Tillotson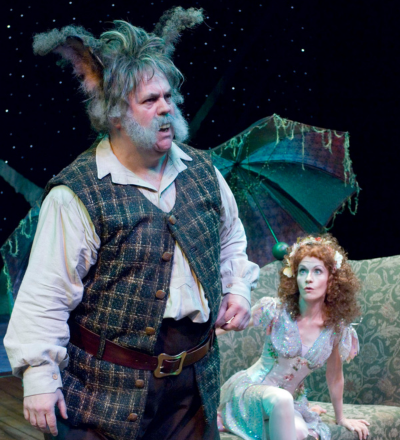 2011 - Max Robinson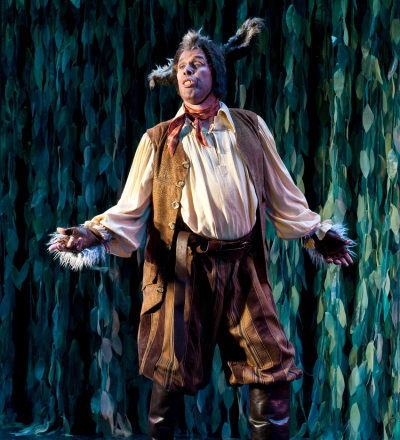 2017 - James Newcomb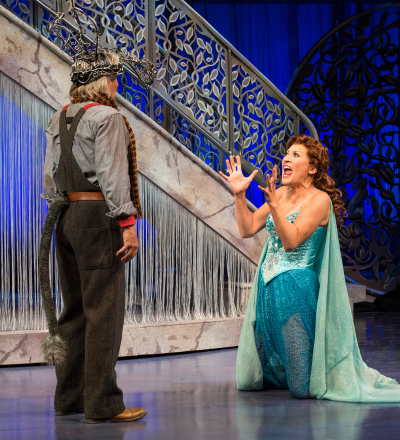 Topher Embrey on Playing Nick Bottom
This season, Bottom is played by actor Topher Embrey. He started acting in middle school, and his love for the 1982 film of Annie with Carol Burnett and Tim Curry inspired him to be an actor.
This is Embrey's fifth production of A Midsummer Night's Dream, and his second time playing Bottom. Embrey played the charismatic character on a 2019-2020 tour of A Midsummer Night's Dream at the American Shakespeare Festival.
"The first character I played was Francis Flute/Thisbe, in high school, and I fell in love with the play," Embrey said. "It was one of the plays that we had to read in high school, and it was interesting because there were fairies…Bottom's head gets turned into a donkey…there are the lovers that quarrel!"
Embrey gets along well with Bottom's character, as he finds similarities between the character and himself.
"My interpretation of Bottom is that he is very lovable and, like me, loves the attention," Embrey laughed. "He wants to do it all, because he thinks he can do it all."
Embrey finds Bottom especially comedic because he is overly confident, but likable because he still loves his friends. For Embrey and Director Jessica Kubzansky, the challenge with Bottom's character was trying to find a happy medium in his presentation to the audience.
"The challenge was not making him the type of diva that people don't love or root for," Embrey said. "It's important to make sure that Bottom is not the villain of the mechanicals. He's a team player, just passionately so."
Embrey wanted to find a middle ground of not overdoing Bottom's character, but not underselling it either. For this actor, nothing is better than making people laugh.
"I know a lot of people are seeing The Play That Goes Wrong, but if you want to see the original play that goes wrong, you can see the play-within-a-play in Midsummer," Embrey joked.
Embrey has been auditioning for the Festival since 2016, and is thrilled to be cast in the 2023 season.
"I'm so grateful to be here––I got to revisit one of my favorite characters in Shakespeare," Embrey said. "And I got to work at one of the most prestigious regional theatres in the country."
To see Embrey onstage playing Nick Bottom, visit bard.org or call 800-PLAYTIX to purchase tickets. In addition to A Midsummer Night's Dream, the 2023 lineup of productions include Romeo and Juliet, The Play That Goes Wrong, Jane Austen's Emma The Musical, A Raisin in the Sun, Timon of Athens, and Coriolanus.