The Journey of Creating Prospero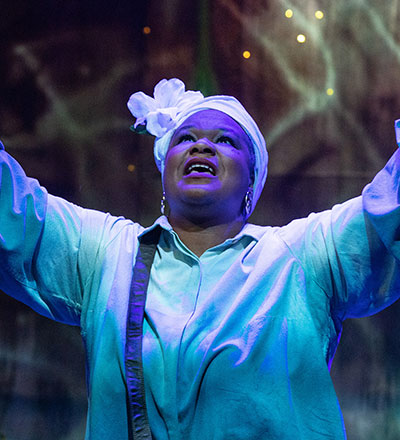 By Liz Armstrong 
Jasmine Bracey is candid about her experience preparing to play the role of Prospero in The Tempest this summer at the Utah Shakespeare Festival. She is quick to note that there are so many things about this role that scare her. 
"I've seen The Tempest four times, and I think it's a wonderful play, but I never remember Prospero, because I've never really followed that line of vengeance and orchestrating-puppet-master," Bracey said. 
Bracey, who last season was at the Festival as Belarius in Cymbeline and Mrs. Dickson in Intimate Apparel, said she was honest with director Cameron Knight about the role: "You're having me play a character that I don't usually care about, so how can we remedy that?"
But this isn't a problem for Bracey, but rather an exciting challenge. "There's so much about Prospero that I don't understand and don't know, but I can honestly say that I'm very excited to figure that out and go on that journey," Bracey said. "It's the first time I've really been challenged with a role." 
Bracey encourages patrons to come and see The Tempest because of how fun it is. "Regardless of my complications with my character, the story holds. It's messy, like life is, and in a comedic spirit, that's really great for audience members to experience."
Because Prospero is usually a male character played by a male actor, Bracey will give the role a fresh, female perspective. "Prospero definitely has a mercurial nature; and it will read differently, I think, coming from a female instead of a male," she said. 
Bracey also noted that a mother-daughter relationship is viewed differently than a father-daughter relationship because "there is an assumption that females are more communication- and connection-based," which results in the actress thinking of Miranda differently with Prospero as her mother.
"Though these relationships can be explored regardless of gender, I have a feeling that it may hit differently with me being both female and black, depending on the gender or racial biases in the audience," Bracey said.
Ultimately, Bracey has been on a journey, trying to navigate how to make this character someone she would personally want to watch. "I've done Shakespeare for over a decade, and I've never encountered a role like this," Bracey said. 
To see Bracey as Prospero and experience the imaginative romance of Shakespeare's The Tempest, purchase tickets at https://www.bard.org/plays/the-tempest/.