The Tempest: Sophia K Metcalf as Ariel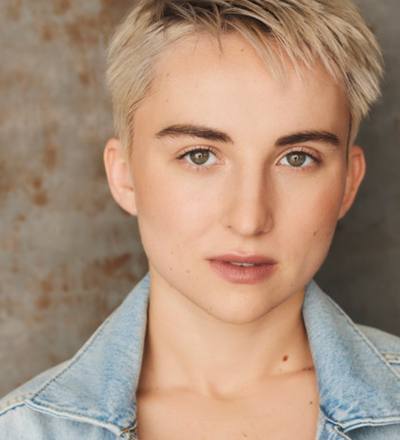 By Liz Armstrong
This is the 10th time the Utah Shakespeare Festival has produced The Tempest, and Sofia K Metcalf's vivacious and whimsical energy has contributed to bringing the 2022 production to life.  
Metcalf discovered their love for theatre at a young age, acting in their first play in elementary school. Their mom used to play Broadway cast albums in the car, and Metcalf adored it.
"My first play I was in fifth grade and I played the fortune teller in The Wizard of Oz, which began my career of playing men," Metcalf laughed. 
Well-traveled, the actor is from New Jersey but attended undergraduate school in Montreal, Canada where they double-majored in classical voice and drama. Metcalf also studied abroad in Munich, Germany and received a masters degree from the University of California, Irvine in acting. 
Several of their UCI peers had been hired at the Festival, and so Metcalf was excited about the idea of also securing a role. After visiting Zion and Bryce National Parks in 2020, they drove back through Cedar City, and that's when the actor put the Festival on their actor vision board. 
Two years later, Metcalf's dreams came true, and they are especially excited about their roles because Ariel is such a fun and tender character 
"I love the sprites and clowns in Shakespeare's canon," Metcalf said. "And Ariel is really exciting for me. You get to be a magical, infinite, genderless sprite, it's crazy!"
Ariel hasn't always been portrayed as genderless. In fact, most of the past roles at the Festival were traditionally filled by men. In 1967, Sabin Epstein was cast, followed by Robert Metcalf in 1971, Ray Dooley in 1976, Mark Guerette in 1984, Richard Hill in 1989, Benjamin Cherry 1995, and Michael Brusasco in 2007. 
The first woman to be cast as Ariel at the Festival was Rachel Mabey in 2001, followed by Melinda Parrett in 2013. Metcalf is the first nonbinary actor to be cast as Ariel.
Metcalf thoroughly enjoys playing Ariel through their elegant movements, humorous language, ethereal singing and playful personality captivating audience members throughout the season. 
There are seven performances remaining before the play closes at 2 pm on October 8. Go to bard.org/plays/the-tempest to purchase tickets. Don't miss out on this imaginative and mystical play!