Announcing the Cast of Sweeney Todd
"I have waited (and lobbied) for over a decade to collaborate on a production of Sweeney Todd with Brian Vaughn," said director Brad Carroll when casting was finalized for this wickedly funny Stephen Sondheim musical. "I am beyond thrilled that it's finally becoming a reality this season."
Vaughn will be in the title role of Sweeney this summer at the Utah Shakespeare Festival, but he will have lots of company onstage with a number of extraordinarily talented actors: "The musical and vocal requirements of Sweeney Todd being as complex and demanding as they are, the Festival has assembled a cast of truly remarkable voices," added Carroll. "They guarantee to give Mr. Sondheim's score the epic, soaring, powerful sound it so richly deserves. Very exciting!"
The cast will include the following: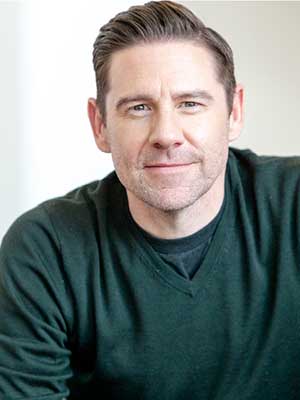 Brian Vaughn has been the artistic director at the Festival since 2011, but he has been an actor for twenty years longer than that. This season he adds one more role as Sweeney in Sweeney Todd. His past roles at the Festival have included such notables as Hamlet, Henry V, Iago, Benedick, Petruchio, Leontes, Cyrano de Bergerac, Poet in An Iliad, Harold Hill in The Music Man, Javert in Les Misérables, Baker in Into the Woods, Sky Masterson in Guys and Dolls, Arthur in Camelot, Pirate King in The Pirates of Penzance, Charlie in Stones in His Pockets, Richard Hannay in The 39 Steps, and both Oscar and Felix in The Odd Couple. In addition, he has directed numerous plays at the Festival. He has also appeared at such theatres as Milwaukee Repertory Theatre, Arizona Theatre Company, Chicago Shakespeare Theatre, Denver Center Theatre Company, Northlight Theatre, PCPA, and South Coast Repertory Theatre.
A graduate of Southern Utah University, he has been a guest artist/director at Brigham Young University, Southern Utah University, University of California–Irvine, Nevada Conservatory Theatre–UNLV, Utah State University, University of Michigan, and Western Michigan University. He is a member of Actors' Equity Association.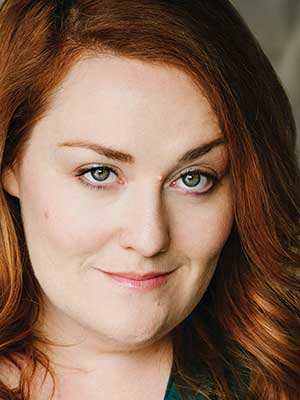 Bree Murphy is returning to the Festival after an absence of several years—to play Mrs. Lovett in Sweeney Todd and Mrs. Peacock in Clue. Most recently at the Festival she appeared as Miss Andrew and Mrs. Corry in Mary Poppins and Queen Isabel and Mistress Quickly in Henry V in 2016. She has also been in such Festival productions as South Pacific, The Taming of the Shrew, Henry IV Part Two, Measure for Measure, Henry IV Part One, and Into the Woods. A member of Actors' Equity Association, she has appeared in the national tour of Les Misérables and in many other theatres, including Musical Theatre West, 3D Theatricals, PCPA, Swine Palace, New Swan Shakespeare, Kentucky Shakespeare, and Okoboji Summer Theatre.
"Playing Nellie Lovett has been a dream since first falling in love with Stephen Sondheim's works as a conservatory student at PCPA in 1997," she said. "To be collaborating with both a director [Carroll] and musical director [Jeremy Mann] who have been part of my professional journey since that time is surreal and thrilling."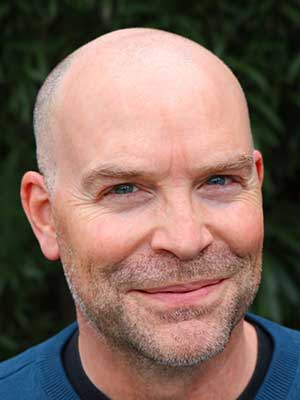 Tim Fullerton last appeared at the Festival in 1996 in Macbeth, The Three Musketeers, and The Mikado. This season he will be playing the dastardly Judge Turpin in Sweeney Todd, as well as Cornwall in King Lear and Herr Zeller in The Sound of Music.
He has appeared in numerous other plays in other theatres, including Henry IV Part One, Les Blanc, As You Like It, and Cymbeline at Oregon Shakespeare Festival; The Book of Will and The Bridges of Madison County at Texas Shakespeare Festival; Translations at Rep Stage; The Winter's Tale at Shakespeare Santa Cruz; Mamma Mia, The (Curious Case of the) Watson Intelligence, Newsies, Julius Caesar, The Pirates of Penzance, Stand-Up-Tragedy, Man of La Mancha, The Secret Garden, Joseph and the Amazing Technicolor Dreamcoat, and Death of a Salesman at Pacific Conservatory Theatre; Jesus Christ Superstar at Santa Barbara CLO; and Three Musketeers the Musical, andVictor/Victoria at American Musical Theatre.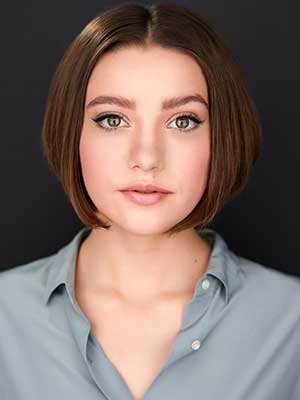 Lucy Austin is making her debut appearance at the Festival this season, playing Johanna in Sweeney Todd, Ursula in The Sound of Music and Featured Performer in The Greenshow. She has appeared in Into the Woods, Much Ado about Nothing, Cymbeline, and The General from America at Hudson Valley Shakespeare Festival, as well as in Cabaret, Macbeth, Good Kids, Little Women, Cagebirds, and Carousel at The Boston Conservatory. She also acted in the film Little Women. She received her B.F.A. from The Boston Conservatory.
"It feels like a gift to be a part of Sweeney Todd, one of Stephen Sondheim's masterpieces, at this time when our community is grappling with his passing and celebrating the singular intricacy and compassion he brought to theatre," said Austin. "I am thrilled to explore how Johanna will come to life in this production, and lean into her curiosity and boldness as she fumbles through challenges and ways through."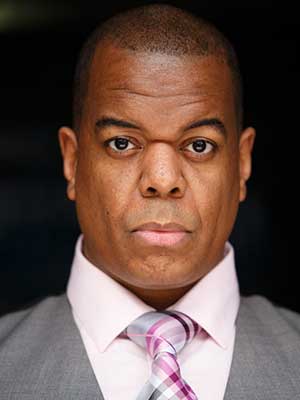 Rob Tucker is also making his first appearance at the Festival. He is playing Judge Turpin's cruel sidekick, The Beadle, in Sweeney Todd as well as Lefeu and Duke of Florence in All's Well That Ends Well and various roles in King Lear. A member of Actors' Equity Association, he has acted at such notable theatres as Shakespeare in Clark Park, Theatre Horizon, Actors Theatre of Louisville, Milwaukee Rep, Arden Theatre, EgoPo, Prince Music Theater, and Opera Philadelphia.
"I've always joked that if I could live my entire artistic life in the worlds of Stephen Sondheim and William Shakespeare I'd be happy," he said. "I'm thrilled to be doing just that at a place I've wanted to work at since I was in college! How lucky can you get?"
The Sweeney Todd cast is large and will include many actors who have appeared at the Festival in the past. All these actors play other roles in the repertory season. They are:
Phillip Brown as Ensemble
Michael Doherty as Jonas Fogg
Shannon Galligan-Stierle as Ensemble
Aaron Galligan-Stierle as Pirelli
Sophia Guerrero as Ensemble
Nathan Haltiwanger as Anthony Hope
Luke Sidney Johnson as Ensemble
Stephanie Lambourn as Beggar Woman
Samantha Paredes as Ensemble
Ilyssa Rubin as Ensemble
Mark Saunders as Ensemble
André Spathelf-Sanders as Ensemble
Taylor Tveten as Ensemble
Ethan Van Slyke as Tobias Ragg
Buy Tickets
More Casting News
Bios and Photos As They Become Available
All's Well That Ends Well Casting Story
The Sound of Music Casting Story