What Exactly Is a Comic Operetta?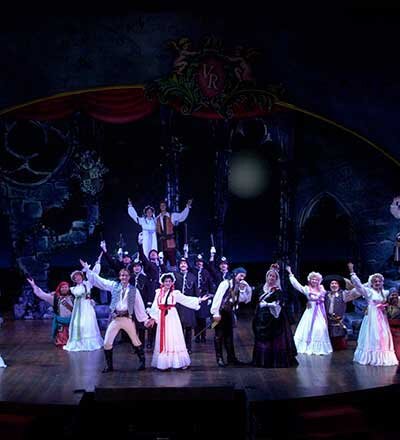 A scene from The Pirates of Penzance, 2001.
By Parker Bowring
Sentimental pirates, bumbling policemen, nobles, and giggling maidens, oh my! All weaved together in a comic operetta that has it all, the Pirates of Penzance. But what is a comedic operetta, you may ask?
Well, I'm glad you asked. "Operetta, or comic opera, really serves as the link between opera and musicals," explained The Pirates of Penzance director Cassie Abate. "Operettas are usually comical and satirical in natural and contain large portions of dialogue between sung musical numbers. Operetta laid the groundwork for twentieth century American musical theatre." Operettas are usually shorter than typical operas and showcase characters that are light and amusing.
According to Britannica.com, operettas are "musical-dramatic productions similar in structure to a light opera but characteristically having a romantically sentimental plot interspersed with songs, orchestral music, and rather elaborate dancing scenes, along with spoken dialogue."
"The Pirates of Penzance is satire and parody at its finest, full of whimsy, humor, and wit. While the show parodies many conventions of grand opera, the music parallels the best from the genre: it is both a burlesque and a love letter," said Abate. By being a comic operetta, the Pirates of Penzance fits in with other genres because it has both music and comedy. It showcases characters who are warm and hilarious at the same time.
"The characters in Pirates of Penzance are larger than life—and nothing is what it appears to be. I think children will love seeing how much chaos ensues around these whimsical characters," said Abate. "Also, our production is finding additional ways to incorporate dance—so get ready for kicklines, tap dancing, and fun leaps, lifts, and turns!"
Full of laughter, music, dancing, and heartfelt characters, the Pirates of Penzance is a comic operetta for the whole family.