The Greenshow Presents Local Musical Groups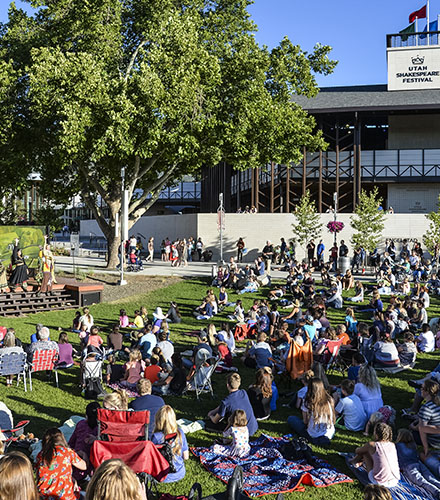 Utah Shakespeare Festival audiences, who have loved this year's edition of The Greenshow, have a chance for a different treat during the last week of the popular and free pre-play entertainment. On the evenings of September 4–9, The Greenshow stage will become home to three local musical groups sure to be hits with Festival guests.
The Washburn Family Bluegrass Band will take the stage September 4 and 7. They will be followed on September 5 and 8 by the gypsy jazz band, Wilhelm. Completing the trio of entertainment will be the Festival's own Playmakers Youth Ensemble on September 6 and 9. All shows begin at 7:10 at the Ashton Family Greenshow Commons.
These local groups take over The Greenshow stage the last week of the season because the regular company of Greenshow performers is made up of advanced students from across the country who must return to school. "But it is also a wonderful opportunity for our audiences to see the quality of our local artists," said Michael Bahr, Festival education director. "These are three very different performing groups, but they all offer an evening of exceptional music and entertainment."
Of course, the 2017 season is nowhere near the end. Plays will continue in both the Randall L. Jones Theatre and the Eileen and Allen Anes Studio Theatre through October 21.
The Washburn Family Bluegrass Band (September 4 and 7) consists of three sons, William on guitar, Nathan on banjo and Jacob on fiddle. They are accompanied by their mom, Emily, on bass and dad, Paul, on mandolin. They play traditional hard-driving bluegrass music. 
Wilhelm (September 5 and 8) is a gypsy jazz band consisting of violinist Heather Wilhelm, vocalist, Olivia Sham, bassist Mason Cottam, guitar/banjo player Ryan Durfee, and trumpeter Adam Lambert. While gypsy jazz (jazz Manouche) is the band's primary focus, Wilhelm is working to create any music that swings and will get people dancing, including American standards, contemporary jazz, bossa nova, western swing, and even a little rock and pop.  
The Festival Playmakers Youth Ensemble (September 6 and 9)  is comprised of local youth ages seven to sixteen. They will perform various numbers, including several from Once on this Island, which they performed last April in Cedar City.
Tickets are now on sale for the Festival's fifty-sixth season, which will run from June 29 to October 21. For more information and tickets visit www.bard.org or call 1-800-PLAYTIX
The Utah Shakespeare Festival is part of the Beverley Taylor Sorenson Center for the Arts at Southern Utah University, which also includes the Southern Utah Museum of Art (SUMA).