Festival Announces New Education Director Katherine Norman and Associate Education Director Stewart Shelley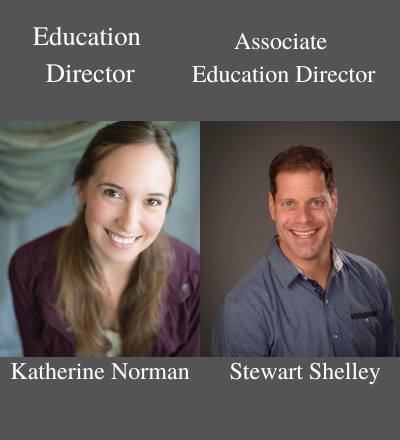 By Liz Armstrong
The Utah Shakespeare Festival is thrilled to announce their new Education Director and Associate Education Director. Katherine Norman has been hired to fill the position of Education Director while Stewart Shelley, who has been serving as Interim Education Director, will be the new Associate Education Director.
Interim Managing Director Michael Bahr said these individuals illustrate the Festival's commitment to education and in cultivating the future through theatre and Shakespeare.
"Norman's extensive experience as a theatre educator, director, and Shakespeare scholar is a guarantee that our education department will continue the great work that has distinguished it for the last two decades," Interim Aristic Director Derek Livingston said.
"And the elevation of Stewart Shelley to Associate Education Director, after his tenure as the Interim Education Director, ensures that our Education Department will flourish as a jewel of the Festival's offering."
Education has been a fundamental part of the Festival's mission since the beginning, and Bahr believes Norman and Shelley will solidify its educational legacy and provide a catalyst and vision for continued growth.
Education Director Katherine E. Norman
Katherine Norman is the new Education Director at the Festival. She has an immense amount of knowledge and experience in theatre and arts in education that will greatly benefit the Festival.
Norman received a Bachelor of Fine Arts in acting from the University of Illinois Urbana-Champaign, and began performing, teaching, and touring after earning her undergraduate degree.
"That's when I really fell in love with the educational side of [theatre]," Norman said. "I was driven to understand theatre and education and the truly unique impact I saw arts education having on so many students I got to work with."
Norman then received a Master of Science in Educational Neuroscience and a Master of Arts in Interdisciplinary Theatre with a focus on theatre with youth from the University of Wisconsin-Madison. Her education didn't stop there, however, and Norman is finishing a PhD in Educational Psychology with a focus on arts and cognition and learning from the same university. She will be defending her dissertation later this year.
"My path has [always] been focused on the goal of better understanding and advocating for arts in education," Norman said.
After years of seasonal and contracted work, teaching in the theatre department at the Interlochen Center for the Arts, and serving as the Education Director for Montana Shakespeare in the Parks, Norman is excited to take this new position at the Festival.
She was drawn to the Festival because it "blends professional theatre with educational content that focuses on bringing students here for camps, classes, and the competition while also sending tours out to schools."
Norman also has room to conduct research because the Festival is housed within Southern Utah University. She believes this future research could benefit work at the Festival as well as contribute to the national conversation about arts in education.
"[That's in addition] to the work that is done here with students and teachers and professional development," Norman said. "I don't think those three parts – theatre, education, and research– exist anywhere else but in this magical place [at the Festival]."
Norman is ready to get to work and plans to become familiar with the community, get to know the programming at the Festival, and form relationships with those involved in theatre and education.
"I am excited about bringing my experience of theatre spaces and research spaces and pairing it with Stewart's experience in classrooms," Norman said.
Asssociate Education Director Stewart Shelley
After serving as the Interim Education Director, for the past year and a half Stewart Shelley has taken the position of Associate Education Director and will be working side by side with Norman.
Shelley attended Brigham Young University where he received a bachelor's degree in Theatre Arts Education, and later received a master's degree in Education Administration from Grand Canyon University.
He spent 19 years as a high school theatre teacher. Stewart's experience with the Festival runs way back, as he attended the Shakespeare Competition as a teenager and later brought his own students to the competition as a teacher.
Shelley is thrilled to be working in a very collegial environment with Norman.
"My knowledge of Utah, Utah schools, the geography is something I can help Katherine with, and her knowledge of research and her dissertation is something I look forward to learning more about," Shelley said. "I think we complement each other very well."
Shelley said this about the future of the education program at the Festival: "The programming that Michael Bahr created is really strong and rooted in the community. A lot of what we are currently doing we will continue to do, but we are both excited about this new collaboration and new ideas."
Bahr agreed with Shelley, stating that Norman and Shelley will solidify the Festival's educational legacy and provide a catalyst and vision for continued growth.