Festival Founder To Receive Cultural Achievement Award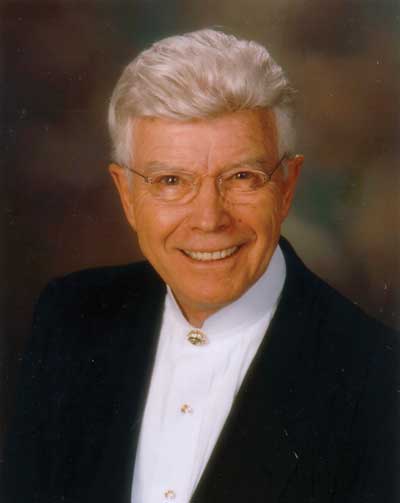 Utah Shakespeare Festival Founder Fred C. Adams will soon have one more award to put on his already-crowded mantel. The Utah Cultural Alliance (UCA) recently announced that Adams will be the recipient of the Cultural Achievement Award.
The award will be presented at UCA's annual meeting and luncheon on December 7, where Adams will also be the keynote speaker.
The award is given annually to an individual who has made a significant and lasting impact on the overall cultural community throughout Utah. Past recipients include Raymond Tymas-Jones, dean of the College of Fine Arts and associate vice president for the arts at the University of Utah; Diane P. Stewart, philanthropist and art collector; Peter Corroon, former Salt Lake County mayor; Keven Johnson, former state archaeologist; Geralyn White Dreyfous, award-winning filmmaker and founder of the Salt Lake City Film Center; Doug Fabrizio, host and executive producer of RadioWest on KUER Radio; Katharine Coles, current poet laureate of Utah; and Tony Larimer, veteran educator, actor, and director.
"Fred almost means more to Utah's cultural sector than even the institution he created, the Shakespeare Festival," said Crystal Young-Otterstrom, UCA executive director. "He embodies everything that we look for in this award. He is a powerhouse of energy, full of endless ideas, and he knows how to make his ideas a reality. . . . He has employed hundreds of actors and dramaturges, introduced thousands of children to theatre and Shakespeare, and created a cultural institution in southern Utah whose impact is felt around the entire state." 
Fred C. Adams is the founder and executive producer emeritus of the Utah Shakespeare Festival, which will launch its 55th season in May. Other awards he has received include the Douglas N. Cook Lifetime Achievement Award from the Shakespeare Theatre Association in 2015, the Governor's Economic Visionary Award in 2011, the Burbage Award from the Shakespeare Theatre Association in 2010, the Governors Humanities Award in 2010, the Utah Pioneer of Progress Award in 2005, the Ernst & Young Entrepreneur of the Year in 2003, the Utah Theatre Association Lifetime of Service Award in 2000, the Institute of Outdoor Drama Mark R. Sumner Award in 1998, BYU's Distinguished Service Award in 1995, Utah Business Magazine's Outstanding Leader in 1989, the first Governor's Award in the Arts in 1989, and others.
He received his BA and MFA degrees from Brigham Young University in Theatre Arts and Russian. He did pre-doctoral studies at Catholic University and University of Utah. The author of many articles appearing in several professional magazines, he has lectured for institutions and professional organizations throughout the United States and Europe.
"It's very generous thing," said Adams of the award. "I'm flattered of course, and have to ask, when so many others are more deserving, 'Why me?'"