Flachmann Fellows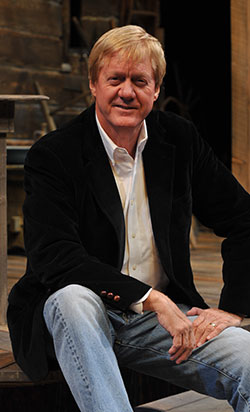 Flachmann Fellows Carry on the Legacy of Long-Time Festival Dramaturg
Cedar City, UT – Last August the Utah Shakespeare Festival lost long-time Festival dramaturg, author, and friend, Dr. Michael Flachmann. The passing was felt far and wide as he left behind a legacy of service and passion for education and the arts. Dr. Flachmann spent over 25 years with the Festival infusing productions with scholarship, context and vitality.
Dr. Flachmann taught Shakespeare at California State University, Bakersfield, during the academic year and then extended his expertise to the Utah Shakespeare Festival in the summer, consulting with directors as they worked to bring the visions for their productions to fruition. He dedicated his entire adult life to helping people of all ages appreciate the world of Shakespeare and of theatre in general.
In order to honor and pay respect to his remarkable work, friendship, and dedication Artistic Directors David Ivers and Brian Vaughn have established the Flachmann Fellows, an endowed program which will provide employment for one or two research scholars each season.
"Michael would be thrilled that the job he held with the Utah Shakespeare Festival for over 25 years has been turned into an educational program," said Dr. Kim Flachmann, Michael's wife. "There are very few training programs for dramaturgs, but now, thanks to the enterprising efforts of Brian and David, what brought Michael such joy has been redesigned so others can learn this very special trade."
The inaugural candidates Dr. Sarah McCarroll and Frank Honts, will cover dramaturgical duties across five productions in the 2014 season. Initial funding for these dynamic fellows will be provided from within the Festival's annual budget. The Fellows will receive a stipend, housing and a small supply budget to aide the work.
Dr. McCarroll is an Assistant Professor of Theatre at Georgia Southern University, where she teaches courses including Theatre History, Script Analysis, and Costume Design. In addition, she is a faculty member in the Center for Irish Research and Teaching. She holds a Ph.D. in Theatre History from Indiana University and an MFA in Costume Design from the University of Alabama. Her research interests combine these two fields via the examination of clothing and bodies on the 19th century English stage. Dr. McCarrol has been working with the Festival since 2003. She started as a stitcher and has since held a number of positions in the Festival Costume Shop over the past decade, including first hand and wardrobe supervisor. She is honored to be one of the inaugural Flachmann Fellows and delighted to explore a new role at the Festival.
Frank Honts is thrilled to be returning to the Festival for his second season and is honored to be an inaugural Flachmann Fellow. In 2011, Honts was the assistant director for the Festival's productions of The Winter's Tale and Dial "M" for Murder. For over three seasons, he was the production dramaturg for six shows at Forward Theater Company in Madison, Wisconsin, including In the Next Room, Good People, Going to St. Ives, and The Farnsworth Invention. Honts was also artistic associate at Forward Theater, where he helped to organize the company's casting and play selection. Recent directing projects include Rep Lab (Milwaukee Rep's short play festival), 9 Circles (Midwest premiere), Speech & Debate, Discovering Austen (world premiere), and staged readings of Uncivil Disobedience and Oatesland. He has also worked as an assistant director at Milwaukee Repertory Theater, California Shakespeare Theater, American Players Theatre, Madison Opera, and Forward Theater Company. Frank received his A.B. in history from Brown University.
"Each dramaturg will work in and out of the rehearsal hall to provide valuable research and insight into our seasonal productions," said Ivers. "Please join us in welcoming Sarah and Frank to the Festival and to our larger community."
"With this program, the Festival will now provide others the opportunity to learn how to be a dramaturg and play a role in the exciting mission of bringing words on a page to life for others to appreciate," said Dr. Flachmann. "The Flachmann Fellows are a very special tribute to Michael and to everyone at the Festival who continues to work hard each year to offer the best lessons about life to their audiences."