How to Bring a Monumental Story to the Stage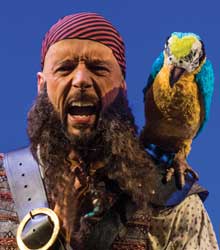 Michael Elich as Long John Silver
By Allison Borzoni
Ever since Robert Louis Stevenson wrote the book Treasure Island,it has been enjoyed by readers of all ages as a thrilling coming-of-age story. As Sean Graney, director for this summer's production of Treasure Island, said, "I think it is important for people to gather together and watch a story about a young person discovering his own moral code, choosing whether to live a life of selfishness or acting for the greater good."
With Long John Silver sneaking onboard the good ship Hispaniola with his pirate crew, many of the characters in this play need to make big decisions as the adventure unfolds. On another level, the artists who created this show at the Utah Shakespeare Festival had to make hundreds of big decisions on how best to bring this monumental story to the stage.
One of the decisions Graney and the designers faced was how to best represent the many locations in the production. "Trying to figure out how the play moves from scene to scene in an exciting, yet easy way was a big challenge," he said. It will be a surprising adventure for playgoers to see how Jim Hawkins navigates across England, onto a ship, and most importantly on and around Treasure Island throughout the course of the play.
The most popular feature of the book and subsequent adaptations is, of course, the pirates. The dastardly mutineers and morally ambiguous Long John Silver are always teasing our imaginations. The pirates also attracted Graney to the production because, "Treasure Island firmly established how we think pirates dressed, talked, and acted. We worked throughout the time we prepared for the production, determining which of those expectations to embrace and which to examine with a fresh perspective." The real question is if we'll see the pirates dressed in stripes, polka-dots, and shark-bite trousers.
The most exciting part for Graney was the chance to work on Treasure Island while running around and acting like a pirate. The whole family can be a part of the fun too while seeing Long John Silver prowl the decks and Jim Hawkins decide his destiny. And have we mentioned adventure? Because, "Fifteen men on the dead man's chest / Yo-ho-ho, and a bottle of rum!" sounds like a lot of adventure to us.