Ten Facts You May Not Know about Intimate Apparel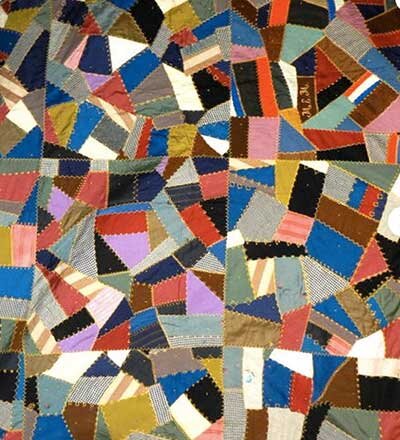 A crazy quilt similar to the one which figures prominently in Intimate Apparel*.*
By Parker Bowring
Intimate Apparel is a powerful and heartfelt play that takes place against the backdrop of New York City at the turn of the century which we are sure you will enjoy. As you prepare to see the play, you may be interested in these ten facts about the play and its playwright:
1.     Playwright Lynn Nottage began thinking about this play after she found her great-grandmother's passport photo and wanted to learn more about her and what it was like for her to live in early twentieth century New York City.
2.     Nottage placed a bed in each scene of the play. In an interview with The Guardian, she said: "I wanted to see the way in which it impacts interactions. Even if the bed isn't used, even if no one sits on it, how does that change the sexual dynamic, the social intercourse?" (https://www.theguardian.com/stage/2014/may/28/lynn-nottage-intimate-apparel-interview)
3.     Along with being inspired by her great-grandmother, Nottage found inspiration from a photograph of a white satin corset embroidered with orange blossoms. She discovered it in a book that depicted the history of lingerie. 
4.     Nottage is the only woman to win the Pulitzer Prize for Drama twice.
5.     Intimate Apparelhas won a number of prestigious awards, including the Outer Critics' Circle Award for Best Play, the Steinberg New Play Award, and an Obie Award.
6.     Nottage has written over ten plays, as well as a number of essays that have appeared in various anthologies. 
7.     As with Intimate Apparel, most of Nottage's plays carry themes of marginalized people and their stories. 
8.     The play was a co-commission and co-production between Center Stage in Baltimore, Maryland, and South Coast Repertory in Costa Mesa, California.
9.     The main character, Esther Mills, keeps her life savings in her crazy quilt. Crazy quilts such as hers became popular in the last years of the nineteenth century. They were intricately made from scraps of silk, wool, and velvet then heavily embroidered. 
10.  None of the four women in the play are New York City natives, each moved to New York with hopes of achieving their dreams.