It's a Wrap for a Successful Season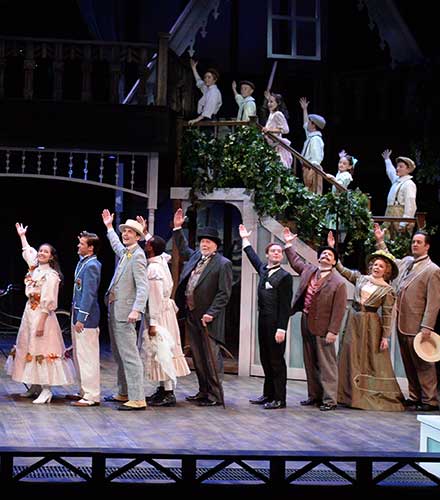 Curtain call of The Merry Wives of Windsor
It's a wrap for the Utah Shakespeare Festival's 2018 season, and Festival administrators are excited about the season's success both artistically and financially. The season ended October 13 with the final performances of The Liar, An Iliad, The Foreigner, and Othello. The curtain closed on the other four shows—The Merchant of Venice, The Merry Wives of Windsor, Henry VI Part One, and Big River—the first week of September.
Everybody at the Festival took a deep breath, celebrated for a moment, and then continued work on the 2019 season which is fast approaching. But before they moved on, Executive Producer Frank Mack and Artistic Director Brian Vaughn took a few minutes to review the highlights of 2019.
"It was a great season. Artistically, I loved every show," said Mack. "Also, we finished the season with a balanced budget. That is a major accomplishment."
"Artistically, this season was one of the most rewarding ever," added Vaughn. "I'm proud of the work and I'm proud of the company. You won't find better productions anywhere of any of these plays."
"In a season that was filled with complex, challenging subject matter, the work was thoroughly engaging and artistically rewarding both for our company and for our audience," he said. "Every play was strong, engaging, relevant, and full of powerful performances."
For example, the musical Big River dealt with some difficult subjects in a sensitive and inspired way. "The relationship of Huck and Jim, as played by Ezekiel Andrew and Rob Riordan, was beautifully woven," said Vaughn. "And I could say similar things about all our plays."
Mack agreed: "It was an amazing ensemble of artists. It was really about all of the artists doing amazing work."
In addition, this was the first full season of the Festival after major leadership changes. Mack, who joined the Festival toward the end of last summer's season, was excited about the administrative changes that have taken place since then. Since last summer, the Festival has promoted Kami Terry Paul to the position of general manager and has hired Donn Jersey as director of development and Tyler Morgan as director of marketing and communications.
"I am gratified that we filled the staff positions and that we got through all this transition." said Mack. "We have terrific people across the board who are helping make the organization's success possible."
Part of that success and one of the highlights this year for Mack was balancing the Festival's budget for the first time in several years. "Bringing our expenses in line with our revenue and getting the budget to balance, while maintaining artistic excellence, is to me our biggest achievement," he said. "Everybody on the staff and board came together to balance that equation, which was extraordinary."
He also thanked Southern Utah University President Scott L Wyatt, the State of Utah, the Festival board of governors, and many long-time institutional donors who "didn't waver in their support for us."
So, what does this mean for the next season of the Festival, and for seasons beyond that? "We are looking forward to next year," said Vaughn. "This year was a season where we explored with our audiences the ideas of tolerance. Next year we have chosen plays which will focus on the family. We want to see how we can come together as humanity. It will be a season about love, life, and belonging."
"We always need to keep working and to keep our vision focused," said Mack. "This year tells us we can do it, and reminds us that telling great stories in a great way is our main purpose, but that we do it better when we are financially responsible."
He noted that the Festival is engaged in a long-range planning process and will be proposing a new mission statement, vision statement, and statement of values soon. "We are excited about the future. We want to continue to build upon our successes, overcome whatever issues may face us, and produce great theatre for our great audiences."
Planning is well under way for 2019, and tickets for the season, themed around the family, are on sale at 800-PLAYTIX and online at bard.org. The season will run from June 27 to October 12. Plays are Hamlet, Twelfth Night, Macbeth, and The Conclusion of Henry VI: Parts Two and Three, all by William Shakespeare. Also on the docket are the popular musical Joseph and the Amazing Technicolor Dreamcoat by Tim Rice and Andrew Lloyd Webber; The Book of Will, a fanciful and fun telling by Lauren Gunderson of how Shakespeare's plays were saved in print after his death; Every Brilliant Thing by Duncan MacMillan and Jonny Donahue, a funny and moving play which is a tribute to resilience, hope, and life; and Arthur Miller's American classic The Price.