Jeanie and Roland Squire: Area Reps for Over 40 Years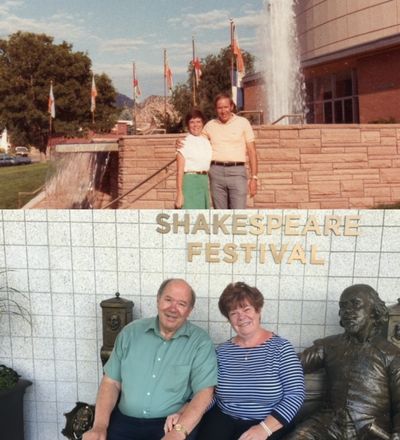 By Liz Armstrong
Jeanie and Roland Squire have been area representatives at the Utah Shakespeare Festival for 43 years. The couple began volunteering in 1979 and have been loyal patrons and volunteers ever since. 
Jeanie started attending the Festival the summer out of high school.
"I've only missed two seasons in 53 years," Jeanie noted. "I saved money as a student to go, and then I took Roland to the Festival our second year of marriage."
Roland was hooked and has been going with his wife ever since. They began taking their children, who are also lifetime fans of the Festival. All four sons became area representatives. 
"It started out to be an escape away from our kids, but then we started taking them, and they've been going since they were around five," Jeanie said. "Now they bring their own children."
It's become a family affair. The couple has 14 grandchildren, ranging in ages 16 months to 19 years old, and those that are old enough to attend love going to the plays. 
"It's become a tradition for our family that we just love," Jeanie said. 
Jeanie and Roland live in northern Utah near Logan, but fulfill their duties by dropping off brochures and representing the Festival in a positive way. They make a trip down to Cedar City every season, eating at their favorite restaurants, attending the prop and actor seminars, going to the Greenshows, and, of course, attending all of the plays. 
"The arts are important and they have value – they build us up and lift us," Jeanie said. "I come [to the Festival] and I feel like it feeds my soul." 
Jeanie started attending plays at the Festival when it was just a platform stage with folding chairs. It's been a lovely experience for her to watch the company grow. 
"We loved Fred, and I think it takes a special person to have that kind of passion," Jeanie said. "When you look at the size of Cedar City and what they've built, it's really amazing."
The couple said they've always liked the traditional productions but have come to appreciate the modernization of Shakespeare. 
"You have to be open minded. When they started playing with the time period, I realized sometimes it helps me understand the show better," Jeanie said. " I might have seen the show eight times, but I'll come away with something new." 
Jeanie and Roland have many favorites, and it was hard to name a few after going for so many years. However, one of their most memorable plays was the 2002 production of Man of La Mancha.
"It's hard for me to even talk about that show . . . it was magical," Roland said, starting to get emotional. "There were two standing ovations during the first act." 
Other favorites include productions of The Merchant of Venice, The Tempest, Coriolanus, and The Spitfire Grill. This season, Jeanie's favorite is King Lear while Roland's are Clue and The Sound of Music. 
No matter what show is on, the family continues to return for the atmosphere and experience. 
"The Festival has such a standard of quality that they've maintained since the beginning," Jeanie said. 
We thank Jeanie, Roland, and their four sons for the time and dedication they have contributed to the Festival. The Squires are simply invaluable to the Utah Shakespeare Festival family.