Paiute Youth Take Center Stage at The Greenshow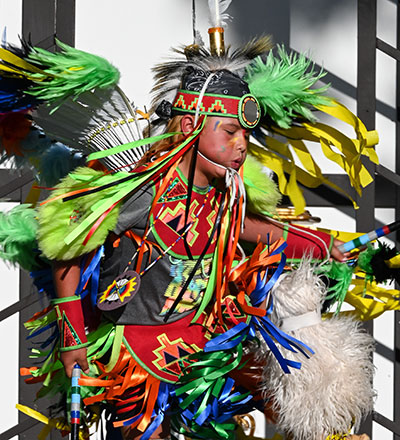 Similar to last year, the Paiute Tribal Youth Performers from the Paiute Indian Tribe of Utah will be taking center stage each evening before The Greenshow. Beginning at 7 p.m., the performances consist of dancing and flute playing by the young members of this talented group. Later in the season, a youth hand drum group will be added.
"The evening performer will tell a little about themselves and do the performance, whether that is dance or flute," said Native Youth Coordinator Roger Clark. "The dancers start dancing at a [young age], usually around three years old. One of the dancers, Sully, won Best-in-Class at this year's annual Pow Wow for Youth Men's Fancy Dancer." 
The flute players range in age from twelve to eighteen years old and most have been playing since 2017. Clark explained that because the flute songs are quite short, the audience can expect each flute player to play two different songs on two different flutes. 
Executive Producer Frank Mack is excited that the tribal youth are returning this year, and that some changes are being implemented. 
"It's a more integrated show, with a smoother transition," Mack said. 
The Greenshow Director Cassie Abate explained those changes, saying that the handoff is more of an "exchange of energy that continues into The Greenshow" so that the two performances feel like one unified piece.  
"I love that the Paiute performers are becoming a part of the fabric of The Greenshow," Abate said. "We are visitors on this land, and so to be able to acknowledge and honor that feels so vital to the show." 
Three different versions of The Greenshow rotate throughout the week, including "The Last Time I Saw Paris," "British Music Hall," and "Coronation Day." The Greenshow is open and free to the public and begins at 7:10 p.m. Monday-Saturday on the Ashton Family Greenshow Commons just north of the Engelstad Shakespeare Theatre. 
The 2022 season of the Utah Shakespeare Festival runs from June 20 to October 8 and the main stage shows are All's Well That Ends Well, Sweeney Todd, King Lear, The Sound of Music, Trouble in Mind, Clue, The Tempest, and Thurgood. Tickets and information are available by calling 800-PLAYTIX or going online to bard.org.