Projections Designer Brings Stunning and Magical Special Effects to Dracula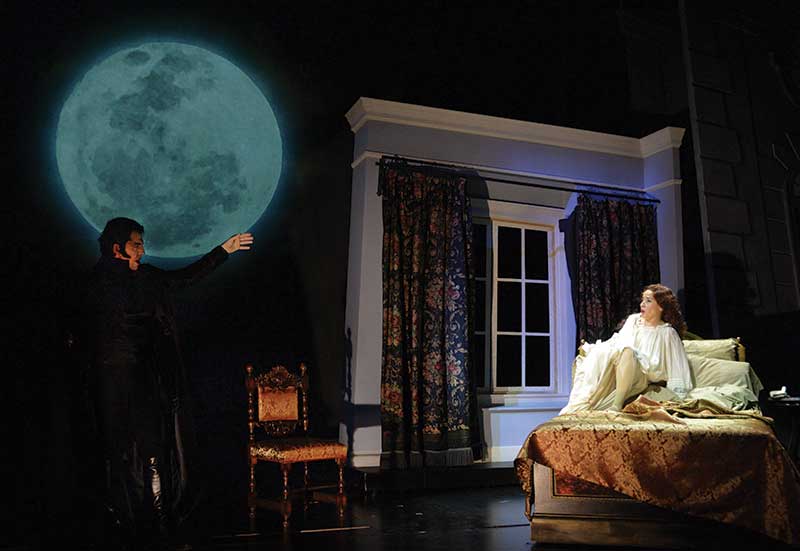 Tyler Pierce (left) as Dracula and Jamie Ann Romero as Lucy in Dracula, 2015. Photo by Karl Hugh.
Take two 8,000-lumen projectors, stack them on top of each other, hook them to a powerful computer, and point them at a rear-projection screen. What do you get? In the case of the Utah Shakespeare Festival's production of Dracula, you get bloody moons, shipwrecks, roiling oceans, and howling wolves.
Of course, it takes a lot more than fancy technology to provide the stunning and magical visual effects evident in the Festival's production of this iconic horror story. It takes a talented designer to bring it all to life. In the case of the Festival, it takes Kristin Ellert, projections designer extraordinaire.
Ellert comes to the Festival from the Midwest where she works as a freelance scenic and projections designer. She has also worked at the Oregon Shakespare Festival, Park Square Theatre, First Stage, Hope Summer Repertory Theatre, La Jolla Playhouse, Hartford Stage, and others.
"At heart, projections design is still design," says Ellert. All the aesthetic sensibility, the understanding of color and space that is evident in scenery, costume, lighting, and sound design is also part of projections design. Ellert starts with the director's vision and understanding of the play, then adds to that the input of the other designers—then goes to work finding and creating moving images that are cast on the rear of a large screen at the back of the set and are visible to the audience.
For instance, the roiling waves and scudding clouds in one scene of the play started as stock video Ellert purchased. She then "changed it, cut things, added in stuff, adjusted colors, to make it my own," ultimately providing just the effect and mood the play demands.
She uses software such as Photoshop and After Effects to create the projections then feeds them into the computer where they are controlled during the show by the light board operator using sophisticated control software.
The result is magic.
Rear projections are becoming more and more popular in recent years. "It is growing in the theatre," said Ellert. "Everybody wants to do it, but the cost of the technology is extremely high, so smaller theatres are finding it hard to do. I am thrilled the Festival was willing to invest what it takes to achieve these projections."
Ellert's magical (and sometimes frightening) projections are visible in the Festival's production of Dracula through October 31, Halloween. Also playing at the Festival are Shakespeare's The Two Gentlemen of Verona and the hilarious farce Charley's Aunt. For more information and tickets visit www.bard.org or call 1-800-PLAYTIX.