Shakespeare: The Man and the Myth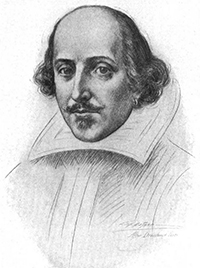 By Allison Borzoni
CEDAR CITY, UT—William Shakespeare is a name that conjures up a lot of thoughts. From Iago to Katherine, his plays have inspired us for hundreds of years. However, this influential artist is difficult to pinpoint historically. Marriage licenses and other legal documents are useful, but they aren't good records for describing the man or the personality. For example, he was an actor in the years of 1592, 1598, 1603, and 1608, but we don't know what he acted in. He defaulted on his taxes two years in a row, but it's anyone's guess as to what that tells us about the Bard.
Even the records we do have of William Shakespeare tend to muddy the waters rather than clear them. It's commonly known that William married Anne Hathaway; however, a clerk recorded that William Shakespeare had applied for a marriage license to marry a Ms. Anne Whateley. This could have been the love triangle that inspired some of William's future plays, or it was an incompetent clerk. The same clerk that wrote up this request also recorded the names of 'Barbar' as 'Baker', and 'Edgecock' as 'Elcock' in past entries. To make matters more suspicious, the clerk was also working on the case of Mr. William Whateley the same day that Shakespeare applied for his marriage license. Besides the problem with the clerk, Anne Whateley also lacks any record that would indicate her existence, like a birth or death certificate. Luckily, a different clerk wrote the marriage bond which records Anne Hathaway as the eventual bride.
Even William Shakespeare himself doesn't make it any easier for scholars. Although it may seem there is a right and wrong way to spell Shakespeare, "William Shakespeare" was one of the few spellings that William didn't take advantage of during his lifetime. From surviving documents, the Bard signed his name as: Willm Shaksp, William Shakespe, Wm Shakspe, and William Shakspere.
Despite the discrepancies, we do have enough records to dispel myths that have risen up over the years. One common story about William is that, as a young man, he poached a deer on the estate of Sir Thomas Lucy. Due to this crime, Shakespeare fled to London where he eventually rose to fame as a playwright. If this rumour were true, it would give scholars a potential date of when William went to London. In reality, there is no legal document that suggests Shakespeare was ever charged with deer poaching. The myth of this crime comes from Nicholas Rowe, who wrote a forty-page biography on Shakespeare about a century after his death. In the biography, Rowe also claimed that Shakespeare had three daughters instead of just two. Most of Rowe's "facts" came from legend or hearsay, and the deer-poaching tale is one of those.
Thankfully, we do know of one legendary incident which did occur in Shakespeare's life. When the lease on the Globe Theatre expired, the Lord Chamberlain's Men tried to renew it. The landlord, however, refused to renew the lease with the troupe, so the Lord Chamberlain's Men took things into their own hands. On December 28, 1598, the theatre troupe and some workmen began the process of dismantling the Globe Theatre and moving it across the Thames that night. It likely took several months to complete the project, but at least it gives us one interesting story about the Bard. 
Overall, we have a rough list of facts about Shakespeare. Some of what we know is that he was christened, bought properties, hated by a Robert Greene, feared by a William Wayte, praised by others, wrote at least 38 plays, and died on April 23, 1616. Legends and rumors will continue filling in the gaps of Shakespeare's life for now, but maybe new records will show up and provide us more insight into his life. However, the man behind the plays may never be quite pinned down, because with our luck, Shakespeare's perfectly preserved diary will be where he kept his grocery lists.
This article was made possible thanks to the book Shakespeare: The Illustrated and Updated Edition by Bill Bryson