Spooky Moments From The 2022 Season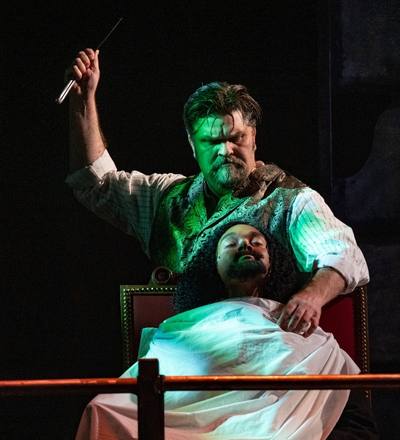 By Liz Armstrong
Happy Halloween! To celebrate the spooky season, here are some of the scariest moments from our stage this 2022 season. Beware: there are spoilers here!
As our Fun Facts article noted, Clue, King Lear, and Sweeney Todd were full of murder, with 27 deaths total between the three plays. That's pretty scary. Yikes! 
Full of twists, turns, betrayal, and murder, Clue was filled to the brim with scary scenes. But its comedic moments lightened the mood, adding laughter and fun to the stage. This Halloween, curl up on the couch with some apple cider and a cozy blanket and reminisce with us. Afterwards, check out the film from 1985. 
Here are some of our favorite scary moments from the play (that was based on said film):
The dead cook (Daria Pilar Redus) falling out of the refrigerator onto Mr. Green (Michael Doherty) was both terrifying and hilarious. So was the falling chandelier that he skillfully avoided in slow motion. That was a close call if we've ever seen one! 
Oh, and the poor motorist (Andrew Fehrenbacher, Augusto Guardado, and Jeremy Thompson) that was bludgeoned to the death with the wrench was frightening. So was seeing the pipe impaled in Mr. Boddy's head (Fehrenbacher, Guardado, and Thompson), nauseatingly-so. Mr. Green's stomach would agree with that statement. 
Perhaps the most unexpected death was the abrupt murder of the Singing Telegram girl (Daria Pilar Redus). The shot that rang out across the stage had audience members jumping in their seats. 
Many of Shakespeare's plays include murder, suicide, and poison, and King Lear was no exception. The king's madness alone was spine-chilling enough. Disowning your own daughter? Shocking 
Cornwall (Tim Fullerton) and Regan (Stephanie Lambourn) gouging out Gloucester's (Chris Mixon) eyes was disturbingly terrifying. It belonged in a horror movie of its own. 
Offstage, Goneril (Lisa Strum) stabs herself, but the screams that were heard were blood-curdling.
The tragedy ends in the frightening death of King Lear (Anthony Heald). The king dies because of the grief he feels for the death of Cordelia (Kendall Cafaro) as well as the betrayal of his other daughters, resulting in an unnerving and eerie ending to another one of Shakespeare's tragedies.
Where do we begin with Sweeney Todd? This Demon Barber of Fleet Street is the epitome of all that is evil and disturbing . . . and perfect for Halloween. 
The play is probably burned into patrons' memories, but for a refresher, watch the Johnny Depp adaptation from 2007. Maybe avoid grabbing a snack though. Knowing the secret ingredient for the meat pies will result in a loss of appetite. 
Watching Sweeney Todd (J. Michael Bailey) slice his unsuspecting victims throats was quite reminiscent of a slasher film. 
After Sweeney Todd murdered Adolfo Pirelli (Aaron Galligan-Stierle), his hand thrashed about, sticking out of the trunk he was thrown into. Pirelli's dead but moving hand was . . . petrifying. 
A more mild death, but perhaps just as disturbing, was when Johanna's (Lucy Austin) beloved bird's neck was snapped. Nervous chuckles and dropped jaws could be observed in the audience after this.
At the end of the play, after Mrs. Lovett (Bree Murphy) and Sweeney Todd's deaths, the Ensemble appeared onstage with vacant, ghostly looks in their eyes. The haunting singing was both blood-curdling and extremely memorable. 
Have other favorite scary moments from the 2022 season? Follow us on Facebook and Instagram @utahshakespeare and let us know on our related post! We hope you have the spookiest, scariest Halloween of them all.