What's the Big Deal with the Shakespeare Competition?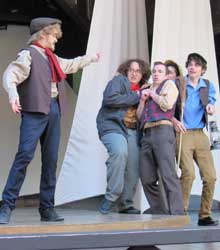 "There really is nothing like the Shakespeare Competition," said Michael Bahr, education director for the Festival. "For forty years the competition has provided young people an outlet to share their passion and excitement for the arts, while also cultivating the future generation of arts professionals."
Who sponsors the competition?
It is jointly sponsored by the Utah Shakespeare Festival and Southern Utah University.
How many years has it been in operation?
This is the forty-second year of the competition.
What are the dates this year?
September 27–20, 2018.
How many students are participating this year?
Almost 3,400 students from 109 schools in five states will compete.
Are there different divisions or classes for different sized schools?
Yes. The competition is divided into six divisions, determined by enrollment: Buckingham (for the largest third of registered schools), Oxford (for the next third), and Cambridge (for the smallest third), Westminster (for charter schools), Stratford (junior high and middle schools of any size), and Essex (schools or groups which are not members of state high school associations).
Are there different categories of competition?
Yes. Students can compete in acting (ensembles, duos/trios, and monos), dance (ensembles and duos/trios), music, and technical theatre.
How many trophies do you award?
The competition awards approximately fifty trophies divided among all competition categories and divisions.
Is there more at stake than trophies?
Yes. Besides bragging rights, students can earn one of about twenty-four different scholarships to Southern Utah University or Festival summer classes.
Do the students participate in workshops, or other learning experiences?
Absolutely. The competition includes over thirty different workshops on various subjects. Students also may attend most of the Festival's current plays—The Foreigner, An Iliad, and The Liar—at a discounted price. Tickets to Othello may be available, but not at discounted prices. 
Who judges the competition?
The judges are theatre professionals from across the country, including Los Angeles and New York City.