2023 Is Just Around the Corner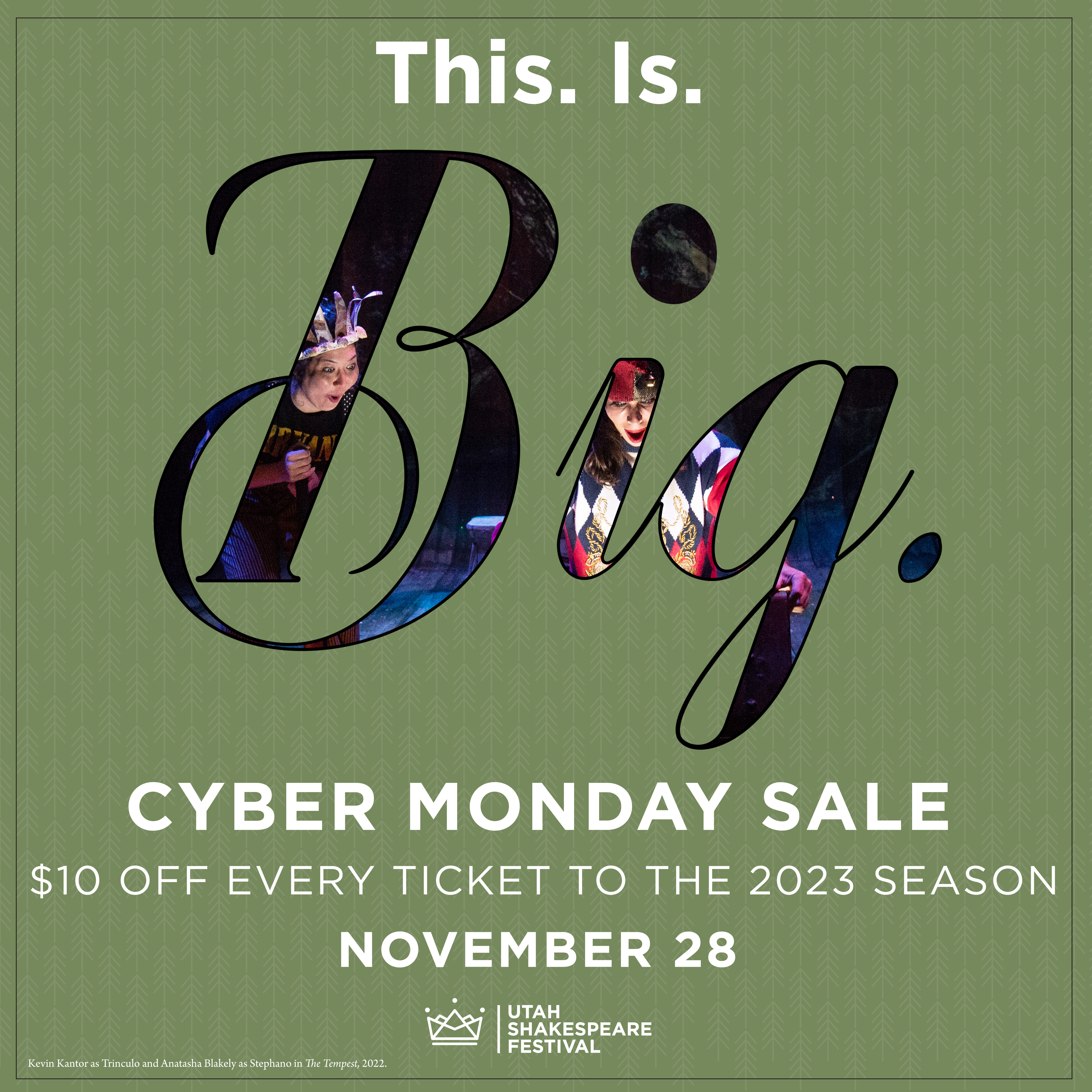 By Liz Armstrong
Cedar City, UT— It's not too early to plan for the 2023 season at the Utah Shakespeare Festival. Cyber Monday, our biggest sale of the year is just around the corner and is the perfect opportunity to purchase tickets. 
 Take advantage of the deal and receive $10 off every ticket by visiting bard.org/cyber or by calling the Festival ticket office. The sale will go live at midnight and is only available on Monday, November 28. 
"Our 2023 season is full of beloved classics and bold stories—most of them new to Festival audiences," said Derek Charles Livingston, interim artistic director. "It is a line-up perfect for theatre lovers, a must-see collection of great work."
Here's the 2023 lineup:
In the Engelstad Shakespeare Theatre
A Midsummer Night's Dream
June 22 - September 9
By William Shakespeare
This luxurious tale of fairies, dreams, and moonlight is Shakespeare's most popular comedy. "The course of true love never did run smooth," but, when the feuding king and queen of the fairies interfere in the mercurial romances of mortals, the result is pure pandemonium and magical mayhem, spotlighting the roguish Puck, bumbling would-be actors, impish fairies, and young lovers. 
West Side Story
June 21 - September 8
Based on a Conception of Jerome Robbins
Book by Arthur Laurents
Music by Leonard Bernstein
Lyrics by Stephen Sondheim
Tony, a leader in the Jets, a gang of white working-class youths, and Maria, sister of the leader of the Puerto Rican American Sharks, are in love—defying the gang tensions and ignoring racial differences. But, just as in Shakespeare's Romeo and Juliet, a feuding rivalry threatens to keep the lovers apart. West Side Story is a musical masterpiece that is just as relevant and provocative as when it premiered in 1957 and changed American musical theatre forever.
In the Randall L. Jones Theatre
Jane Austen's Emma
June 22 - October 7
Book, Music, and Lyrics by Paul Gordon
Orchestrations by Brad Haak, Paul Gordon, and Brian Allan Hobbs
Based on the Novel by Jane Austen
Jane Austen's enduring love story is given new life as a romantic musical. Revisit with new wonder one of Austen's most adored heroines, a well-meaning but bungling matchmaker who ignores her own desires for love while setting out to find a suitor for her friend Harriet. Sweet, intelligent, and buoyant, this musical will make you fall in love all over again.
A Raisin in the Sun
June 23 - September 8
By Lorraine Hansberry 
In 1959 playwright Lorraine Hansberry created a theatrical masterpiece that broke down racial barriers both on and off the stage. A Raisin in the Sun follows the proud Younger family members as they grapple with different definitions of the American dream and how to achieve it, while battling racial discrimination and financial pitfalls that threaten to pull the family apart and push their dreams out of reach.
The Play That Goes Wrong
June 30 - October 7
By Henry Lewis, Jonathan Sayer, and Henry Shields
Welcome to the opening night of the Cornley Drama Society's newest production, The Murder at Haversham Manor, where things are quickly going from bad to utterly disastrous. The ill-fated play-within-a-play has everything never wanted in a show—an unconscious leading lady, a corpse that can't play dead, and actors who trip over everything (including their lines). Nevertheless, the accident-prone thespians battle against all odds to make it through to their final curtain call, with hilarious consequences!
In the Eileen and Allen Anes Studio Theatre
Timon of Athens
July 14 - October 7
By William Shakespeare
Timon's compulsive generosity makes him the most popular man in Athens. The people flatter and praise him, all the while accepting his gifts. Timon is everyone's best friend—until his wealth is suddenly gone. Destitute and disillusioned with so-called friends who have abandoned him, he turns his back on the world. A play for our times, Timon of Athens is hilarious, satiric, and deeply moving as it explores friendship, wealth, and the foibles of a materialistic society. 
Coriolanus
July 15 - October 7
By William Shakespeare
An arrogant, proud and hot-headed military hero, Coriolanus is seduced by the notion of becoming Rome's ruler, but he must go among the "commoners" he disdains to win their votes.  His loathing becomes public, and the people drive this skilled general from Rome and into allegiance with a sworn enemy. Coriolanus now threatens to attack those whom he sought to rule. This rarely produced play's themes of ambition, love, family, and power will crackle in our intimate Anes Theatre. 
Once again, visit bard.org/cyber or call to get $10 off per ticket while the sale lasts! Please note that the sale cannot be combined with other discounts and it is only available on Monday, November 28.
With additional questions or to purchase tickets over the phone, call 800-PLAYTIX. The ticket office is open from 10 am-5 pm Monday through Friday. 
Check out showtimes and dates at bard.org/calendar.